3 Main Reasons to Buy Quantpedia Premium
You will get access to 700+ Premium uncommon trading strategy ideas. Complete with a short description, performance & risk characteristics, and links to source academic papers. New strategies are added into our database on a bi-weekly basis. Additionally, you will get over 1000+ links to academic research papers related to our Quantpedia Premium strategies.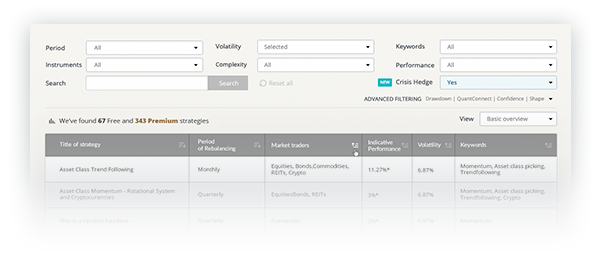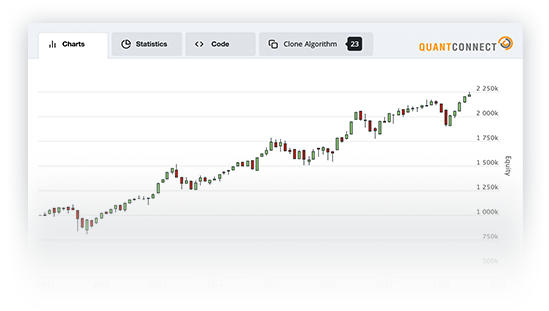 Moreover, you will have access to over 400+ out-of-sample backtests with equity curves, statistics and complete code. Around 5-10 new backtests are added into our database on a bi-weekly basis.
You'll be able to use unrestricted Screener and advanced Charts to better select your Quantpedia Premium strategy.
Buy Premium Now



---
---
Don't forget to check out our Quantpedia Pro pricing offer to access additional expanded reporting, modelling, and screening tools.
Frequently asked questions
---
What is Quantpedia? Can you give me a short overview?
Sure. We are a database of ideas for quantitative trading strategies. We sift through financial academic research and search for new interesting articles and papers. Once we find an attractive strategy, we add it into our database, extract description, fundamental reason, risk and return characteristics from the source research paper and describe trading rules in a plain language. Users can then screen through our database of manually curated ideas for trading strategies…
Do you offer trading signals and/or out-of-sample backtests of strategies in your database?
Quantpedia.com is primarily a database of ideas for trading strategies derived from academic research. We do not offer trading signals. Performance and risk characteristics for all strategies are extracted out of source financial research papers. The subset of our strategies have out-of-sample backtest (with a source code+equity curve chart+statistics) written in QuantConnect – check Screener
I'm interested in buying some historical data and/or backtesting tool
We do not provide/resell historical data and or tools for backtesting. Visit our links section – "Backtesting Software" and "Historical Data" and choose a provider that meets most of your needs.
I have picked the strategy I like. Will you backtest/code it for me?
We do not provide consulting/coding services at the moment. You may pick a backtesting tool based on your coding experience (Backtesting Software) and code/build your own set of strategies. Alternatively, you can find a freelancer to perform coding for you on various sites (for example, www.upwork.com).
I do not want / can't pay via credit or debit card or via PayPal. Is there any other option? Alternatively, do you accept cryptocurrency payments?
Yes, just contact us via our contact form. We can send you an invoice and you can pay via bank/wire transfer. Alternatively, we accept cryptocurrency payments via PayPal, or you can contact us for other forms of crypto transactions.
I have a question which is not in the FAQ.
Just send it to us via our contact form, we answer all questions…