We use a great number of finance research resources all over the world including research portals, financial journals, universities and conferences. We sift through these sources every day and search for new interesting articles and papers. By the end of each year thousands of financial papers have been investigated in this way.
---
Quantpedia has strict selection rules
Each article is evaluated based on the strategy's implementability, backtest length period and overall soundness. We check how well the strategy is explained (we automatically remove black-boxes) and if it has a clearly stated performance characteristic. We prefer research papers which also contain some type of risk characteristics (max. drawdown, volatility, etc.). Only a small percentage of strategies pass all of these selection criteria.
We extract trading rules in plain language
Selected strategies are then added into the existing Quantpedia structure. We extract trading rules in plain language, performance and risk characteristics and various descriptive characteristics (the instruments used for trading, markets traded, backtest period length etc.). Each strategy is then categorized by several keywords and database connections to similar strategies are created.
Visit our blog

A new blog post in our "Members Only" section is created once a new strategy is added into Quantpedia. Members can see all of a strategy's characteristics and use the screener and visualization tools to compare it to other Quantpedia strategies. All new academic research papers related to already existing Quantpedia Premium strategies are also published on our "Members Only" blog. Occasionally, we find academic papers related to common quantitative trading strategies. Such papers are usually described on our free blog.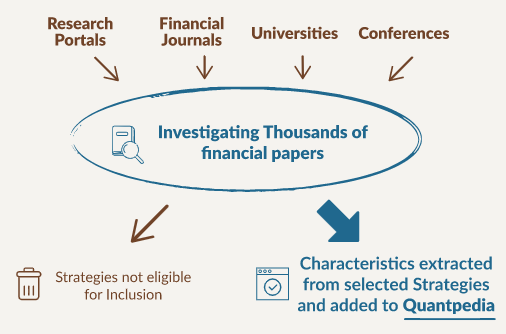 ---
See out-of-sample implementation
of selected strategies
Subset of Quantpedia's strategies are implemented in Quantconnect's framework with an out-of-sample equity curves, statistics and trading codes.